Exhibitions
HeatherleaDESIGN
LIVING THREADS
Greta's quilts and embroidery are exhibited at the bi-annual Living Threads exhibition.
The next exhibition is at the Obolensky Building, Trent College, Derby Road, Long Eaton NG10 4AD in April 2019.

Our work is shown in the quilt competitions at national and international shows, including the Festival of Quilts every August at the NEC, Birmingham.

We both have work in the current World Quilt Competition touring the USA.

Our quilts will also form a touring exhibition within the Grosvenor Shows events commencing January 2018.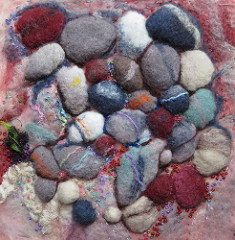 EMBROIDERY AWARD

Weybourne Beach: Inspired by the pebbles and seaweed on the shingle beach at Weybourne, Norfolk, January 2018. Needle felting and hand embroidery, finished size 30cm square. Made for the Embroiderers Guild Members Challenge Competition 2018. The theme chosen by the guild was Underfoot. My entry won 1st prize for Colour, Julia Caprara Award For Colour, April 2018. See it on myFlickr page here.

QUILT SHOW AWARDS

Tabgha won 1st prize in the wallhanging category and runner-up to best in show at Grosvenor Shows Edinburgh, September 2017

Shropshire Landscape won 1st prize in the Patchwork Landscape theme category at Grosvenor Shows Sandown, June 2017

Aspects Of Venice - 4 journal quilts, won first prize at ICHF Glasgow March 2017

Tabgha won Highly Commended at the Festival of Quilts, NEC, August 2016

What A Shambles (2-person quilt by Greta & Mike) won Highly Commended at the Festival of Quilts, NEC, August 2016

Heart Of The Highlands (2-person quilt by Greta & Mike) won 2nd prize at Uttoxeter, April 2016

Birmingham Post Office Tower won 1st prize in the Art Quilt category at ICHF Glasgow March 2015

*Hong Kong Star Ferry won 3rd prize in the Quilters Guild Challenge at the Festival of Quilts, NEC, August 2013

*25 St Mary Axe, London, won the Piecing Prize at the Scottish Championships 2013.

Black and White Memories 1 and 2 won First Prize in the Journal Quilt Competition with Grosvenor Shows, January 2013

*Docklands won first prize in the innovative category at Uttoxeter, April 2012

Highly commended at the Festival of Quilts, NEC, August 2012:

*Hong Kong Reflections

*25 St Mary Axe, London

*Heart of the Peak (joint quilt category - designed by Mike Fitchett)

(*see my Quilts & Embroidery page)